Some diamonds from the rough are just meant to shine. Whether it was meant to be, inevitable fate or sheer determination, Roddy Ricch has been emerging as a viable force. As a valuable source of refreshing material, this artist pours out his all on every track he polishes. What a phenomenal journey it has been for another fantastic West Coast artist – with the foreseeable future on the horizon there will not be any slowing down soon.
Faction of California
Roddy Ricch whose real name is Rodrick Moore grew up in Compton, California and is no stranger to the funk. In a heavily crip-trodden section, he did not differ from his counterparts except for the fact that he made something out of himself. He was kicked out of his mother's home at age fifteen and "hopped off the porch" of the Wilmington Arms Projects to get money the only way he knew how – illicitly.
Growing up in Compton provides an inevitable struggle for anyone due to its tumultuous conditions and lack of resources. With that being said, not everything in Compton was terrible for Roddy Ricch. Growing up, he actually attended the same church as Kendrick Lamar and heeded his presence as one that would clearly do something different with his life. Also, Ricch traveled a fair amount as a kid which meant he wasn't always in Compton and was able to experience different soundscapes, dialects and styles from the likes of Atlanta, Chicago etc. His grandmother was from Louisiana and she helped him become acquainted with a massive wealth of musical knowledge throughout his development. It is clear that he wisely selects and chooses influential pieces from different regions to intricately put together a sonically diverse palette of tunes.
Roddy Ricch is a very tranquil individual. He does not overextend himself or feel the need to be overly conversational in social circles. He sticks to the code, collaborates with like-minded music generals and moves like the mob – in silence. He endured many hardships throughout his era and does a tremendous job relaying specific shades of universal pain. When it comes to casting judgment upon others, he chooses not to because he cannot understand their struggle and vice versa. Instead, he respects those who show him respect and keeps it pushing into the upper echelon.
The reason why Roddy Ricch is taking off into new avenues of the hip-hop industry is due to his relatability and urgency. As a plain-spoken individual with great vocal range, Ricch articulates himself extremely well. Not to mention, he finds certain pockets of sonic variation on records that is resemblant of the late, Speaker Knockerz. It is well-documented that Roddy received a great deal of inspiration from Speaker Knockerz and is a big fan of the way he was able to finesse his way onto the platform of musical relevance. All in all, money is therapy for Roddy Ricch, the money is just a bonus.
Ride With One
Roddy Ricch lives like someone who has been around before in the sense that he moves like a chess player. With well-calculated steps, he has been able to forge some important lasting connections with the likes of influential individuals such as DJ Mustard and Nipsey Hussle. Overall, his musical catalogue contains solid substance and has been bubbling quite a bit this past year. The song that really skyrocketed his presence goes by the name of, "Die Young." He scribed this song the night that XXX Tentacion died as it serves as a tribute to those taken too soon such as X, Speaker Knockerz and Lil Snupe. Nipsey Hussle was still around at the time (and is Facetimed in on the video) but unfortunately this song heavily applies to Nip as well. Die Young took off when Meek Mill recorded a video with it playing and many people caught wind of this spectacular track. Mill and Ricch met in ATL through Dreamchasers artist Omelly and have a very strong bond and continue to push each other to be the best versions of themselves daily.
Roddy Ricch knows exactly what type of musical blend he thrives within and always accentuates his abilities. He follows the groundwork laid out thoroughly by the likes of melodic animals like Young Thug but does just the right amount of twisting, reworking and customizing to make it exactly his own identity and approach on the tracks. He chooses beats that compliment his vocal accompaniment very well to deem him extremely distinguishable. All in all, this man is an illustrator of the streets. He presents pain in an eloquently descriptive way that provides clarity for people who have experienced his trials and tribulations and for those who haven't either. The best artists know how to relay their message to anyone and everyone no matter the walk of life.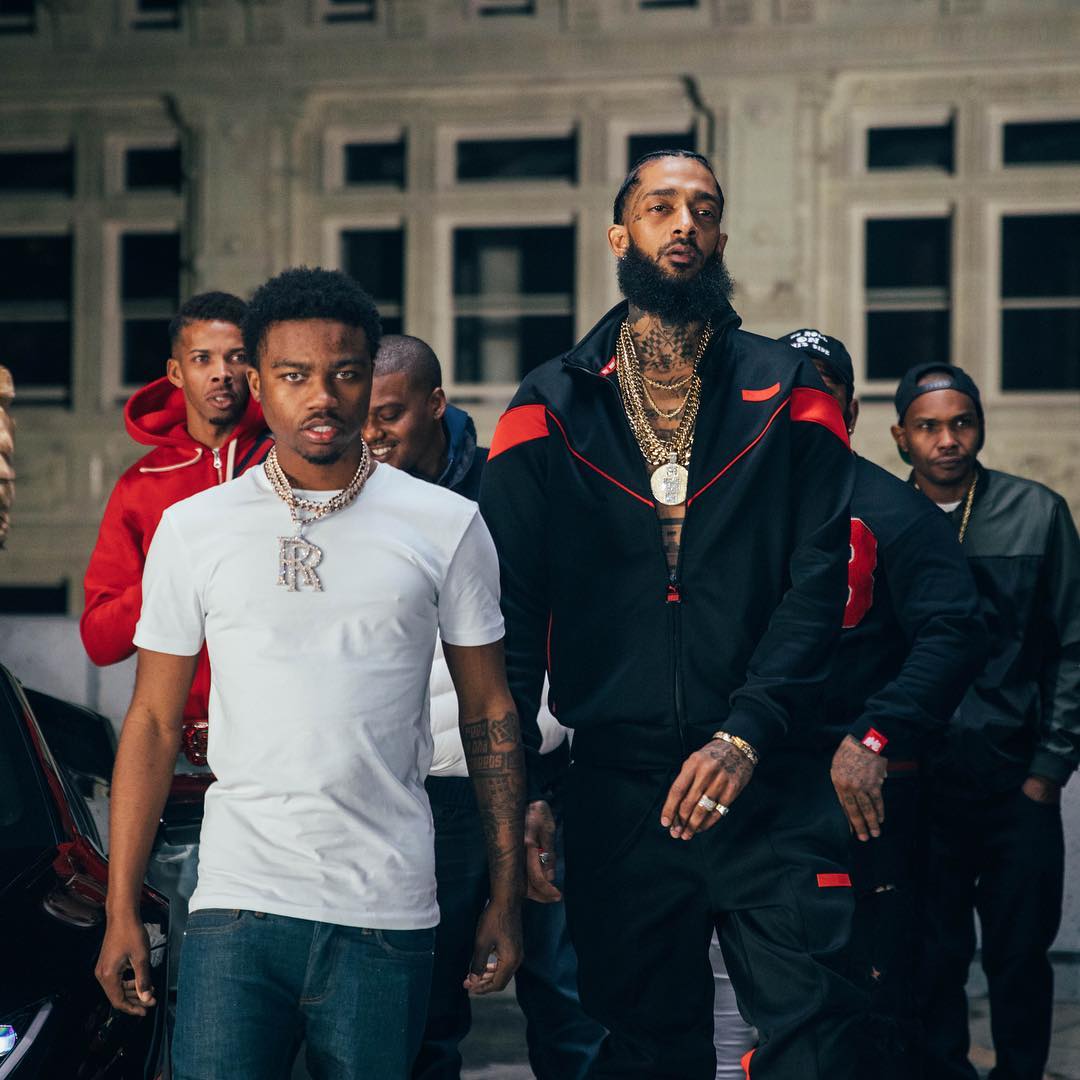 Made It All Happen
As a resident of the street life, Roddy Ricch did not believe in things he could not see. When he first started making music, it was more of a trivial experiment for a bit of fun. Once, he saw people wanted him around the studio and all of the racks that accumulated from some of his viral moments, he became fully immersed in his musical craft. And did he ever, as his work ethic remains solid where at times he might crank out five or six songs per night. His sing-song flow is magnificent and carries blunt brutality that demands respect and replays. He has a positive carefree attitude and a matter-of-fact disposition that creates social appeal. Roddy is out to earn his keep by pursuing happiness and freedom while not forgetting all the hardships that solidified him as a man.
If versatility is gold, RR has been platinum. His blueprint is bound for longevity and he is creating his own lane while utilizing the methods that many successful individuals have put to use before. His adversarial storytelling is imbued with purpose and creates situations that are enticing and interesting. With a heart designed to overcome, Roddy displays an emotional sensibility that balances just the right amount of vulnerability with fortified verses. As a conveyor of grim scenarios, Roddy Ricch provides invigorating and scintillating results for his supporters. As long as he continues to escalate upon his route, there are no limitations or boundaries on his ultimate potential.
A few years back, Nipsey Hussle brought Roddy out at a show, as did Meek Mill. He also toured with ScHoolboy Q for a stint. It is evident that his buzz is steadily swelling as he gives renditions to people from the streets and lets his songs ring out from there. Others who have been magnificent for spreading awareness of his catalogue are DJ Bugsy and Trap Kitchen's co-founder Spank. Kobalt signed this triumphant and evocative artist and handles full administration of his catalogue, publishing, creative and distribution. As an artist, he is the ultimate hybrid and creates highly anticipated releases time after time. He has been nominated for three 2020 Grammy awards and is definitely the talk of the town within the past two years. Him and his Bird Vision Entertainment team are destined to reach glory, provided that they are around as long as they deserve to be.