Andre 3000 said it best at the 1995 Source Awards, "The South got something to say." There's a lot of flavor from the South which stretches quite some distance if you consider Houston, Texas apart of the South. I'm sure Tina Snow better known as Megan Thee Stallion does. It's downright impressive the way that Megan Thee Stallion has electrified the game with her towering presence and bouncy music catalogue.
When she was growing up all Megan's mother Holly ever played for her was Pimp C, Bun B, Three 6 Mafia and other artists related to that Houston screw sound. For those unaware, Houston originated the art of "chopping & screwing" a song to where it sounds distorted and much slower. Megan Thee Stallion emulates Houston sound especially with her alter ego Tina Snow which is a twist from Tony Snow – an alias used by Pimp C. Additionally, she is currently under contract with 1501 Entertainment and T.Farris who was a prominent member of Swishahouse which broke the artists Mike Jones and Paul Wall.
Megan is a phenomenally interesting gal. She unlocks different alter egos and utilizes them strategically based upon which project she is creating. She brings incredible energy to every room she steps foot in and does so at a breakneck pace. Besides, she continues to pursue her Health Administration degree from Texas Southern University to complete her plan of opening assisted elderly living facilities. One of her most treasured mentors is Q-Tip who stays in tune and in touch with her music.
Enigmatic Savviness
Megan has an undeniable appeal that radiates the "it factor." Just like Nicki, Beyonce, Cardi she has her own group of fans and they are called, "Hotties." She claims, "Hot Girl Summers" represents the, "Trill" movement and so glaringly screams original talent. As an artist, she connects with fans organically via social media and does her best to reduce the negative impact caused on our environment. She is a huge fan of anime and once referred to herself as, " Todoroki Tina." Most importantly, the "Hot Girl" movement is about being unapologetically yourself and spreading positivity at all times.
An artist that chooses to rip the conventional path apart and veer to completely unbeknownst directions cannot be duplicated. Megan's hallmark confidence is a direct manifestation of her strong grasp of self that exclaims the amount of self-admiration and enamoration she possesses. When a pioneer of the hip-hop genre states that, "Her arms were widely outstretched as she embraced the moment" it is clear that you belong in this industry.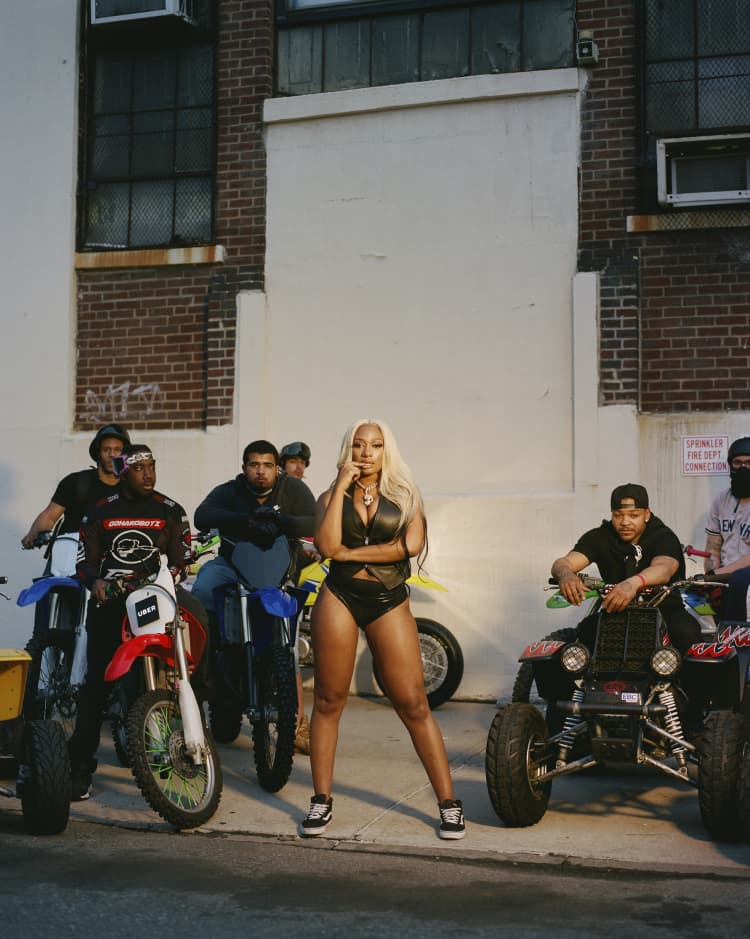 All Megan ever wanted to do was rap like the boys. Her mother Holly went as "Holly-Wood" and rapped tough. Megan switched it up and put her own spin on it from all the times she listened to classic artists from a young age. She spent time in high school writing, rapping and perfecting her craft so when she got to college she could freestyle and cypher with all of her other classmates. People began to catch wind of her voluptuous figure and spectacular style on the microphone after a rooftop freestyle over the 4 P.M. in Calabasas beat. Megan is not bashful and chooses to use her incredible figure as a way to entice her audience. Her sexual tact and approach remains sonorous and assured. Inventive and experimental debauchery serves as a way to utilize raunchy energy with admirable finesse.
Megan Thee Stallion stands by the fact that women should have their own lane but also reciprocate care and love for one another. Her "Hot" movement mainly serves as a proponent of women's empowerment and an appreciation for a loving state of mind. Megan is incredible for only 25 years old and continues to impress her peers with tenacity, discipline and reluctance.
Recently, Megan has caught herself in a little bit of hostility. Her contract agreement with 300 Entertainment and 1501 Entertainment has entered discernment stages with court filings. Since Megan signed with Roc Nation for management she has been trying to negotiate at least industry standards of her shares. When she first signed the deal, she was unaware of the distribution when it comes to royalties, masters, tour, production, merchandise and distribution. Now, she is putting her faith in Roc-A-Fella in hopes that they can work magic a la Meek Mill's legal trouble or Lil Uzi Vert's contract issues with DJ Drama.
Megan Thee Stallion is extremely educated, well-spoken and the world got a chance to appreciate her presence during a recent press run. As she visited The Breakfast Club, First Take amongst others it was clear that she will remain calm and poised during these proceedings. Lord willing, she will receive an equal settlement once the entire ordeal is finished.