For different backgrounds and walks of life, there are different paths and directional adventures worth pursuing. Some people have a very defined path and may have had their journey set in stone for them from a young age. For others, life is about constantly recreating and rediscovering yourself through various mediums. Most of the time, creative individuals yearn for independence, expression and the flexibility to incorporate flavors from any type of art form they are fully immersed within.
Enter Sha Davis, a sensational blend of R&B and jazz fusion, ranging from sonic palettes similar to Solange Knowles all the way to the sultry sounds of Kelela. She grew up in Mississippi and spent the majority of her time mastering the diverse craft of becoming a classically trained operational vocalist. After completing her four year enlistment in the U.S. Air Force as a trainer and rehabilitation specialist, Sha packed her belongings and headed West to Houston.  
Sha Davis is a sensual phenomenon that provides unparalleled vibes and a very refreshing outlook on music. She is extremely progressive and speaks to the importance of zero carbon emissions and healing experiences. Her music often deals with inner harmony and balancing the experiences we face throughout our existence. Supplying music that provides healing experiences is a noble task and one that Sha embodies so well. With specialized setlists, venue customization and dynamic emotion every performance put forth by this woman and her collaborators personifies soulful, therapeutic energy.
Sha & the 90's
Much of the time Sha Davis performs as the lead vocalist alongside four male instrumentalists to comprise Sha Davis and the 90's. The choice to name the group after Sha Davis speaks volumes to her ability to command the attention of an entire room. Also, it is rather fitting considering the fact that Sha belts out tunes much like artists such as Queen Latifah who thrived during the golden era of the 1990's. 
"A lot of my expectations for love came from Disney movies – how does a Little Mermaid who can't even talk fall in love? You want to give up everything in your life for this dude on a boat that you don't even know?"
Sha's forthcoming EP, "Songs I Wrote When You Left" bares it all and deals with universally understood emotional hardships. This project specifically excels in a deeper capacity than her other releases due to its ability to strike several chords within the listener. It does not solely serve as memoranda, rather a collection of hymns that carry multiple meanings and interpretations. Primarily, she drives home the importance of chakra alignment, spiritual energy and maintaining focus in the correct areas. 
By putting blinders on the facade of social media, this artist tends to look inward to dissect her true meaning. By doing so, she is able to create customized scripts and elocute those renditions into a solidified and succinct soulful sound. Miss Davis is fully proficient in all realms of Soul, R&B, Jazz and Gospel types of musical entries. 
What makes Sha so incredible is her willingness to wear a myriad of hats for her ultimate well-being. Officially, she is a musician, creative director and stylist. She is apart of the House of HER HTX which is an all-female art collective. With a fantastic eye for fashion, her design touches and blends place her in the class of aficionado. She emits glorious divine energy and tremendously represents indigenous afrofuturistic imagery. She is not burdened but rather empowered by her complexity. As a clairvoyant force, Sha exercises universal oneness which merges a tight-knit connection with her respective connoisseurs.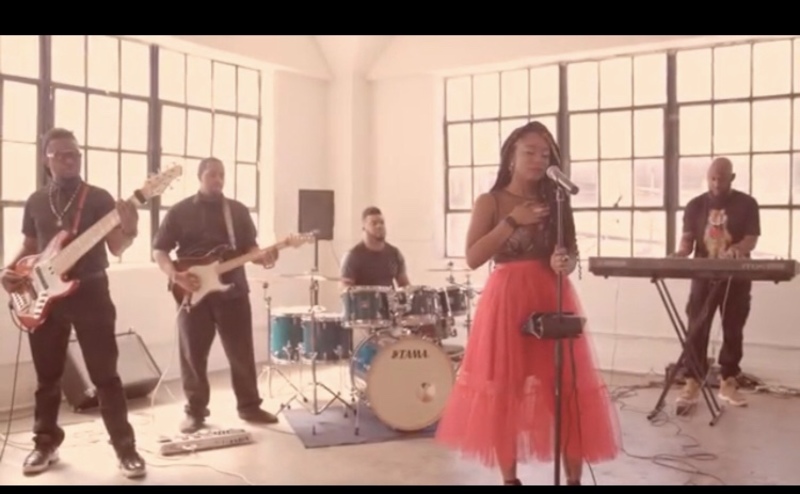 Sha Davis is the entire package of raw, unadulterated talent combined with refined sumptuous sounds that satiate listeners worldwide. Parts of her songwriting and touring efforts are handled in conjunction with Reuben Studdard and Fantasia Barrino each of whom had frutiful careers following top 5 American Idol finishes. One of the best placements, this team landed for Sha Davis was in 2017 on the ticket for Princess Nokia's Music U.N.I.T.Y. Festival. Other opening artists included the likes of TommyRiis, Aphasia and Isis Ohui. To give a better idea of the vibes this show brought forth – the main act ended the show with a spontaneous meet and greet where she was able to embrace several inspired individuals. 
What is downright amazing about music is its overarching influential nature that takes people to the most liberated spaces. Also, it is simply wondrous how it may only take one song or one concert to convert a regular music consumer into a full blown believer. When an artist like Sha performs her set it is much like a cinematic short film, with a narration that foreshadows the intersectionality of self esteem and self love. She exemplifies urban beauty in mainstream media and accurately depicts a portrayal of urban sisterhood through a personal and accurate lense. Her songs extend toward the limitless horizon of the space and time continuum. As a woman who always embodies the present moment, her music allows those who appreciate authenticity to gracefully unwind and experience jubilation. Catch a vibe off of her impending project, "Songs I Wrote When You Left" when it drops on March 13th.