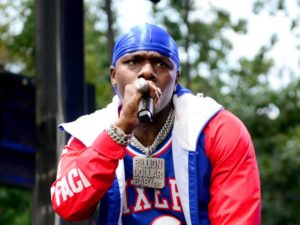 There is a difference between people who are hard-headed and people who are persistent. Thankfully, DaBaby is both for all the right reasons. Since he began to rap in 2014, DaBaby ( Birth Name: Jonathan Kirk) shot his career trajectory toward the moon. It was a very positive move that he made as he deliberately wanted to leave the streets in favor of something safer and much more lucrative. Originally, he went by Baby Jesus but as his persona began to garner more traction and to be politically sound he adopted the name, "DaBaby."
This man was born in Cleveland, Ohio but moved to Charlotte, North Carolina at the age of six. Throughout his life, he was forced to adapt to harsh conditions and situations where violence was commonplace. Above all else, he hopped in the booth and began to transition his stance on life. At the beginning, he was rather melodic and lighthearted. Through improvement, trial and error and seeing as that he wasn't doing global numbers, DaBaby switched it up. He became much more aggressive, poignant, confident and fluid. Throw in the fact that he was willing to wear a diaper on stage at SXSW 2015 for visceral virality, all of the dominoes began to fall in line for him.
Raunchy Audacity
It is safe to say that there has not been a more polarizing artist since the likes of Ludacris. The reason Ludacris was mentioned in correlation with this artist has to do with their many similarities. DaBaby is unafraid to act goofy on camera, as his videos play like intentionally poorly acted types of B movies. His comedic video antics essentially makes fun of himself and allow him to look ridiculous to pile up significant amounts of views and notoriety. He is willing to be the butt of the joke on camera, but make no mistake about it – he is not someone to be messed with in reality. 
Actually, many people have been on the short end of the stick when it comes to rubbing DaBaby the wrong way. He broke his wrist on a man's face inside of a Louis Vuitton store when someone tried to test him. He put his opening artist, Don Trag in a coma. When the Stoughton, Massachusetts artist got his photo request turned down and continually persisted to ask, get declined and then proceeded to insult DaBaby and his bodyguards, he did not fare too well (severe brain and neck swelling.) Recently, at the Free Water Block Party show in New Orleans a female fan made a swipe toward DaBaby and consequently got two-pieced by Kane (bodyguard) for her actions. I am not condoning violence, but be cautious if you try to step the wrong way or inflict harm in this artist's direction.*
All the way from Zebulon B Vance High School, it is unbelievable where this man stands today. He almost signed with Roc Nation but the deal fell through as the two respectfully decided to part ways. Instead, he is jointly represented by South Coast Music Group and Interscope Records. As mentioned, his bodyguards are rightfully protective and his video production team goes by the name of the Reel Goats. There is a fine line between someone who gets by and someone who stands out. Clearly, DaBaby has put in the hours, has plenty of manpower and staked his claim within rap history with a well-calculated approach and proper investment within his brand/product.
Infectious Verve
DaBaby has a rabid fanbase and throughout the course of a prosperous 2019 he has proven that he is a force to be reckoned with. His album that released in March – Baby on Baby took the world by storm with hits like "Suge" and "Walker, Texas Ranger." This artist has an unmatched hunger and a tendency to get so amped up that he will start rapping on the beat the minute he hears it. This ability to wear multiple hats and attack from all angles has benefitted him very well thus far. He thrives with the fast, punchline raps and it is apparent with his first two albums clocking in at 31 and 35 minutes, respectively. With a tireless pace, not only are DaBaby songs quick and forceful but his rise and climb to the top has been extremely urgent and fast-paced as well.
DaBaby's vocal inflection, relentless energy and guttural delivery is somewhat reminiscent of DMX. Also, he encourages excitement, hustle, braggadocio and is very well-spoken. Being raspy, boisterous and intricate is quite the rare combination. His snappy, pitter-patter zaniness exhibits syncopated delivery and deliberate hyperactivity. He is charismatic, irreverent and speaks the truth to bring validity to his image. His video output utilizes absurdity as he relishes the outlandish role to increase his visual appeal and amass massive streaming numbers and video views as a result. Additionally, his charm, humor and knack for menacing intimidation play a vital role for his success. Most importantly, his diction is precise and he times his rhymes on just the right cadences to elicit the desired response from his audience. 
From Write Off to Colossal Monstrocity
DaBaby has grinded extremely hard since he started. He is not afraid to put out mixtapes in the same quarter or albums in the same year. His most recent album, "Kirk" gets slightly more autobiographical and takes us into his life before he skyrocketed into superstardom. Regardless, this album still speaks to his universal acclaim and displays that he will continue to ambush the music industry. 
DaBaby has put in boatloads of work and deserves everything that he has earned. With that being said, none of this would have been possible without his day-to-day representative, Caroline Diaz who is the Senior A&R Director at Interscope. With a motherly instinct, she treats her artists with tough love and serves as much more than a talent spotter, rather she is a campaign leader. She is an aggressive and assertive woman of color won't take no for an answer and it is clear that her hunger matches DaBaby's. She is an instrumental part of DaBaby's success and is actually the only woman that DaBaby follows on Instagram.
*DaBaby has a provision in all of his performance contracts that allow him to pull out of shows if he feels unsafe.