In America's current climate, it has never been easier to make an excuse as to why you aren't successful. There are more people willing to listen to negativity than ever before and the acceptance of mediocrity is at an all-time high. With that being said, with our current state of affairs it has never been more difficult to be an immigrant living in the United States. Thankfully, Ahmed Balshe steers clear of any half-paced narrative that accompanies many intentions within our current atmosphere.
Ahmed Balshe was born in Jenin, Palestine and bounced around from Palestine to Jordan, Saudi Arabia and then eventually to Ottawa, Canada all by the age of seven. He is also of Arabic descent and for most of his childhood, he was right in the thick of the turmoil that has plagued Middle Eastern countries for decades. He was fortunate enough to escape the violent cycle of destruction in that area of the world in favor of tremendous opportunities in the United States. Not to be mistaken, nothing was handed to him it's just that living in America made it much more possible to achieve the grandiose ambitions he had envisioned since a young age.
Balshe, better known as "Belly" first went by the name of "Rebellyus." He started out as a drummer for Ottawa punk bands and has since utilized his networking ability and strong sense of moral character to forge meaningful connections within the music industry. As an instrumental figure within the Canadian rap scene, he has won two Juno Awards which are better known as the Grammy's of Canada for Rap Recording of the Year. He has long been a staple in the Great White North and just recently began to have his music reach new heights.
Relationships over Transactions
His first record deal still exists to this day and that is with Wassim Slaibi a.k.a. "Tony Sal" and Capital Prophet Records.  No matter what stage of life he is in, Belly has always maintained relationships that are fortified with lasting impacts. In 2015, he signed to XO Records on the back of his dynamic friendship with The Weeknd and in 2016 he commenced a major partnership with Jay-Z and Roc Nation. The key to signing with Jay-Z was the way Hov gravitated toward his amazing album, "Up For Days." Another major factor in the emergence of that situation was the fact that during the first interaction between Jay and Belly they did not speak about music once. Simply conversing on a human-to-human basis about life and not business led to this fruitful partnership. Roc-A-Fella individuals are always one to focus on relational before transactional and this scenario did not prove any different.
Before Belly's solo projects could truly bubble, he had to grind to pay his just dues. The area where he made a major splash in the music industry was through songwriting. He received six song credits on The Weeknd's "Beauty Behind the Madness" and also helped write for Beyonce's streaming behemoth of an album "Lemonade." Some other influential figures he has worked with are DJ Drama, Kurupt and Boi-1da. It took patience, persistence and downright gut-wrenching effort to get his name recognized nationally. 
Belly's music is provocative and unsettling all in the same breath. As someone who has dealt with adversity through every stage of his life, he is a wonderfully resilient voice for the voiceless. His magnetic presence radiates within industry circles in the form of an intriguing, complex and admirable artistic figure. With hypnotizing lyrical webs that tangle listeners, great presto and dialogue he switches up the formula in ways unimaginable. His meticulous compositions exemplify a prolific work ethic, biting wit, smooth flow and punctuating delivery. As a person that was born with a gift, he pushes himself to reach new levels every day. Ultimately, he personifies the gift of life by touching people spiritually and creating a deeply rooted bond with his listeners.
When Belly worked with Boi-1da many people began to take notice. Their collaborative project titled, "Mumble Rap" showed that Belly's knack for songwriting had truly began to pay off. On this project, he defends the term Mumble Rap in support that there is enough room for everyone within the hip-hop world. By naming his project after a derogatory colloquialism, he defends every facet of the game by snatching the term back and flipping the script via his own rhetorical renditions. Belly is a firm proponent of involving everyone that deserves their shine and the idea that there are multiple different genres, forms and flavors of rap music. 
Vessel of Strength
This man really reached a new level on his album, "Immigrant." As an avid connoisseur of literature and self-guided knowledge, Belly brazenly rejects the President of the United States and all of his closed-minded ideals. This album was a huge statement toward that effect and displayed that this Palestinian bred man is unafraid to express himself when it comes to the cultural displacement he has experienced and the hustle/determination he put forth to climb out of poverty.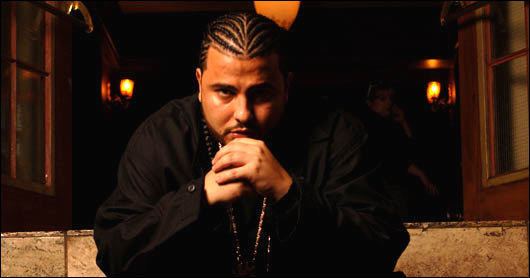 As a politically prudent artist, Belly consistently speaks his mind even at the detriment of his own career. His contribution on a national platform is much more important than financial gain as he is trying to shift the landscape of the culture. As a humble immigrant that has adapted extremely well to his surroundings, he works to convert his fans into believers. Visually, his performances are conceptualized magnificently well and he makes it a point to prove his worth to every concert goer on any given night. 
The game needs more artists like Belly. He speaks from the heart with wisdom and brings about ideals that need to be emphasized much more. For example, he was apart of the "Get Your Money Right" panel in Detroit where he spoke with Russell Simmons about the importance of banking, home/car ownership, repairing bad credit and entrepreneurship. Through collaboration, organic approaches, natural vibes, impromptu occurrences and genuine social encounters, Balshe clearly represents the essence of human nature that is severely lacking in hip-hop.
Belly got done wrong too many times so he makes it a point to always move wisely. Besides that, he maneuvers cleanly and always participates in well-rounded business interactions. He is a strong believer in the concept of karma and engages in activities that maintain his positive reputation every day. As a detail-oriented judge of character he is poised to align himself with the right crowd in order to solidify a historically colossal legacy.