Tyron Frampton resides in Great Britain and his most recent album, "Nothing Great About Britain" delineates the divisive nature of the United Kingdom. His moniker, "slowthai" derives from a derogatory nickname kids gave him due to the fact that he would slur, mumble and have difficulty focusing his attention for any major spans of time. Proudly representing the Bush sector of Northampton, slowthai brings about nihilistic optimism and creates a caricature of the current state of affairs within his country across the water.
Only Get One Life, No Simulator
Growing up about sixty miles North of London in the low-rise housing projects of Bush, Northampton molded this man into the cunningly outspoken artist he is today. The area is masked with a wash of greenery which serves an ulterior purpose to cover unsightly blocks of land and keep the vicinity unbeknownst. The activities, general population and low income atmosphere instills it into one's head that Bush is all you will ever be. Now, slowthai has flipped the script on those prescribed roles and earned his qualifications through brilliant wordplay and a refreshing approach to the British "grime" wave.
One of Northampton's great authors, Alan Moore has been a major influence on slowthai since a young age. His idea of psychogeography considers one's surrounding landscape to be much more than just its physical components. Our internalization of landscape makes us astonishing filaments of life that exist as infinite recurrences. The idea that there is much more to any place than just the eye can perceive has helped slowthai immensely. Whether it be representing the area he's from or attracting new fans from various genres, slowthai proves that he cannot be boxed in. His song, "Doorman" portrays incredible crossover appeal and his work with, "Slaves!" helped him tap into entirely new target audiences en route to becoming a European stalwart.
As half Bajan (Barbados) and half Asian, Ty has commonly been confused for Caucasian. His ethnicity is one of several ways that he separates himself from the pack. On the album cover, he plays the role of jester or joker and allows people to laugh at him in order to create a deeper dialogue.
He stands nude and his grin is crude while his arms dangle from medieval stocks in front of the Spring Boroughs Council Estate. Representing the NN post code of Northampton, Ty has progressed significantly throughout his life, even completing a stint at Northampton music school. His passion for grime originated from the time his Aunt dated a show promoter and he would sneak in through the fire escapes to witness the liveliness.
NGAB deals with many tropes, one of them being an inner conflict with his 'ends' or hometown. While he still resides in Northampton, slowthai clearly feels the pull that has started to occur from his burgeoning musical efforts. He is fiercely loyal and proud of his hometown, yet remains outward looking. Many ideologies, topics and characteristics that comprise slowthai deals with contradiction. As a matter of fact, contradiction is present within every human as we exist as rather paradoxical creatures.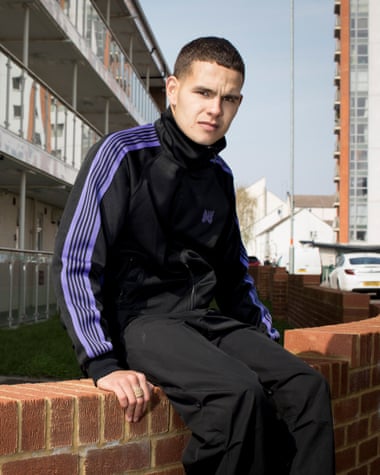 The way slowthai composes his tracks empowers others to wear their heart on their sleeve. With no hesitancy to exhibit vulnerability, this man sees music much like a diary space and does not exist within any boundaries or limitations. With internalized dialogue that often bounces back and forth from different realms of self, slowthai can be very reflective in nature. With that being said, he juxtaposes that calming inner depth with aggression and he does so extremely well. He attacks the mic with abrasive energy, scowling tones and visceral tones of inflection. Regardless, he has an extremely impressionable personality and contagious enthusiasm. 
Riotous Tongue
In person, slowthai is rather mellow but on stage he cannot be tamed. Often stripping down to his boxers to symbolize the deconstruction of masculine toxicity, slowthai is vividly provocative. At shows, he waves the Union flag to stir consternation. Another very interesting concert ploy that he institutes is the mounting of mirrors on his set to symbolize that him and his fans are all a reflection of one another. With vigorous relatability and captivating charisma slowthai releases anecdotal odes to resolutely forgotten people from his ends.  
The subject matter on this project is unapologetically brilliant. As a social renegade, he publicly criticizes the political calamity of Britain as it traverses through a hectic era (Brexit, EU) Slowthai riffs on nationalism, poverty, elitism and shows no reverence to Queen Elizabeth or Prime Minister Theresa May. He firmly rejects the social mores of an imperialist institution and the classism throughout. As a challenge to his country's current climate, he outlines his opposing beliefs to the primitive ideologies that place patriotism and the aristocracy of the monarch on a pedestal. With detailed accounts of inequality and corruption, this anarchist articulates his disgruntlement with the paradoxical incongruence that is deeply rooted within the country's nature.  
Disenfranchised Youth
Slowthai is a steady proponent of keeping youthful energy alive. He encourages others to constantly tap into the inner child that society continues to stamp out since birth. Marvelling within never ending space and opportunities is an excellent way to stretch life to its ultimate capability.
Nothing Great About Britain (Method Records) is cynical yet sincere and thrusts cultural commodities into tiers of public conscious. It captures specific societal experiences and illuminates existing cultural disposition. Slowthai demonstrates sharp wit, frenetic energy and cheekiness en route to shattering genre confines. On the flip side, he also conveys empathetic expression, understanding, joviality and internal duality. Clearly, a multifaceted artists reveals tremendous imagery through theatrical, urgent and uncompromising lyrical utterances. Catch slowthai in concert at the Glastonbury Festival on June 29th.