The aspect that is so damning about mainstream forms of media is that it is obnoxiously repetitive and rarely strays from the norm. More times than not, if you do not fit to the prescribed and predetermined mold of a typical individual in the entertainment industry it is extremely difficult to break into it. That is one of the reasons why Keith Ape is such an electrifying enigma.
Possessed by Spirit, Should Have Been a Moo-Dang (Korean Shaman)
Dongheon Lee grew up in Bundang, South Korea which is a suburb about an hour outside of cultural hub, Seoul. He was born on Christmas Day in 1993 and radiates positive energetic output. He did not grow up on the streets and had a relatively simple upbringing that saw him being fortunate and not having to ask for much. His relationship with hip-hop grew when he realized he could utilize it as a form of creative expression. The song that really catalyzed his entire affinity toward the genre was, "Life's a Bitch" by Nas.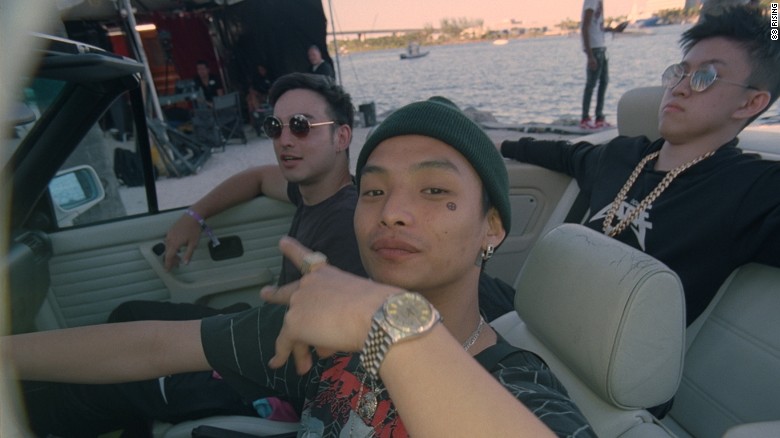 Although, he was not responsible for selling drugs or committing crimes throughout his life, he did maintain a reputation as a bit of a problem child. People around him viewed him as a troublemaker and he felt the inclination toward that tendency as well. Reason being, he did not feel content with following the typical path laid out before him for him and his minority peers. Rather than conforming to what society subscribed for him to accomplish, he set out to congregate with individuals much like himself in pursuit of great achievement.
12 was the magic number for Lee as the age where he first started experimenting with hip-hop. He received great lengths of inspiration from Korean artists such as Epik High, Drunk Tiger and Dynamic Duo. Despite his family's disapproval, he dropped out of high school at seventeen in order to fulfill his musical aspirations. Originally, he released music under the moniker, "Kid Ash" which was a combination of the likes of Kid Cudi and Ash Ketchum (Pokemon.) From the outset, he wished to differentiate himself via word structure, cadence and unorthodox delivery. 
How the World Turns
It was only by coincidence that he was discovered by a fellow artist, Okasian. When perusing through instrumental tapes, Lee's voice accidentally made its way onto one of the beat tracks and it was so extraordinary that it led to a follow up contact from Okasian. Okasian found Lee's entire musical persona, tempo and intonation to be so groundbreaking that he went to great lengths to ensure that they could collaborate.
Once Lee outgrew his Kid Ash nickname, he transformed into Keith Ape. This is a tribute to him and his father's favorite art producer Keith Haring and Nigo, the Japanese DJ who founded streetwear brand, A Bathing Ape. Keith Ape studies the greats that came before him, pays them homage and consumes every piece of their strategy in order to replicate the successful process on his own terms. A great example of his tributary methods can be found on one of his early songs, "Swanton Bomb" which gives direct recognition to revered WWE star, Jeff Hardy by commemorating his go-to move.
Route to Ichiban (Number One)
Next, he noticed the swarm surge that surrounded Bobby Shmurda circa 2014 and released his own version titled, "Hot Ninja." The moment where he really saw his own skyrocketing came when he decided to switch it up from just doing direct remixes. The moment he removed his underground veil and propelled into the mainstream came with with the emergence of his viral hit, "It G Ma." As he masked his remix renditions and formulated his own tweaked version of OG Maco's "U Guessed It" people all around Asia and America were captivated by his entire artistic aura. 
It G Ma is phonetically styled so that is able to be easily understood by Americans. From Korean it is directly translated to "Never Forget." What started as an inside slang, greeting and farewell term between Keith and his Cohort crew turned into a sensational smash hit. The video showcases Keith and his Korean counterparts turning up inside of a hotel. Ape clutches a bottle of makgeolli (Korean rice wine) and aggressively swigs the previously unpopular drink like it is a 40 oz of Olde English. With only one setting, the crew had to get rather creative to give all five artists a different scenario by which to perform their verse on the song. What stood out about the video is that even though it was clearly low budget they were able to make it work extremely well. They played off the fact that there was only one scene and created an atmosphere that allowed the audience to relate to the situation. The symbols used related to Korean currency (won), Bape clothing and deeply resonated with the aesthetic and target demographic they were striving to reach. The gestures shown and approach used proved to be very effective and sent this song flying into the stratosphere. 
The lyrics in the song itself blend together phrases from Japanese, Korean and American languages. To your average listener, it may sound a bit animalistic and foreign but it is very easy to recognize, nonetheless. Although, many of the lyrics uttered from the Cohort collective are not easy to decipher it still sounds very familiar. Reason being, these guys recognized the pattern of Southern trap and adopted it to fit their strengths. They capitalized mightily with, "It G Ma" and the song has since been remixed with Waka Flocka and A$AP Ferg and has granted them entry into major hip-hop surroundings.
Spearheaded K-Rap Boom
"It G Ma" shifted the entire trajectory of these five South Korean artists. When the song dropped on New Years Day 2015, it redirected their entire movement and catapulted them into the spotlight. K-Pop is a genre of Korean music that was the only widely renown tuneage coming from that area. Now, the emergence of Keith Ape has ushered in a completely new genre, K-rap. 
Ape continued to ride the absurd wave of virality from, "It G Ma" by performing in New York, Los Angeles and for the first time outside of his home country at SXSW in Austin, Texas. At SXSW, people turned up with reckless abandon and unleashed all kinds of pent up rage to his musical catalogue. With unbelievable moshpits and invigorating performances, Keith Ape set foot in America with a passionate purpose.
Orca Ninja Style Rapper
It is clear that Keith Ape brings a revitalization to the rap game. His psychic energy and untapped vault of potential creates positive interactions and endless possibilities toward upward mobility. His potent energy onstage does not show any signs of decreasing when it comes to his exchanges offstage. Great individuals are gravitational meaning that they have the, "it factor." It is clear, that Keith Ape has this differentiating, "it factor" as his presence is enough to draw people in and keep them hypnotized. 
A very influential being by the name of Sean Miyashiro took specific notice to the industry impulse Ape was able to create and the two would eventually become industry partners. Miyashiro signed Ape to Hi-Lite Records through an agency called, "88 Rising." The hybrid company handles management, video production, recording and marketing. They are considered a cultural force to be reckoned with and coexist as a cohesive unit. 
88 Rising stands out from the rest of the world record labels due to their diversity and refusal to subscribe to cultural norms. Their business model defies conventional logic and remains very forward thinking. They do not exist within one, "lane" and do not allow themselves to be marginalize with boundaries or limitations. By tapping into mediums of music, television, and online content this group brings original flavor that turns heads. With a constant underdog mentality and contagious optimism, Keith Ape and 88 Rising have cracked the code of Western music and brought it overseas to their respective native countries.
By mixing and mastering a formula of different slanguages, Keith Ape continues to prove himself as a groundbreaking culture convergent. His unrestrained mayhem and rap rowdiness has worked wonders for him. His overall style is rather eclectic and has garnered him some recognition within fashion avenues, too. He has modeled for Calvin Klein and frequents fashion shows from the likes of Valentino and Alexander Wang. His sharp bone structure and shoulder grazing hair make him worth consideration for fashion labels. 
Recently, KA moved to the California Arts District to clear his head and hit the reset button. With a fresh start and a new outlook, he released his debut EP, "Born Again." The collection includes references to his favorite comics, TV shows and video games. He relates heavily to the image of a crowbar because that symbolizes the starting point in his favorite game of all-time, "Half-Life." He concludes with a song called, "Symphony Number 93: Escape from the Planet of the Apes." This is another direct nod to the track on Nigo Sounds (2000) with the same title (#25910) Besides that, there has been rumors of an It G Ma opus piece where the classic world-changing culture defying tune could be revisited. This would include an extension of the song with production from artists like Skrillex or Southside. 
"Our artists and our brand is the most influential in Asia because we aren't coming from some manufactured pop machine. We are the tip of the sphere of a new face of music," said Miyashiro. "The reason for that is we are the first label that actually is making impact in the West and East." (CNN)