Anything that belongs on the market will make an impact if the consumer deems it effective. Without fans and people who buy into the program, quality music does not receive the recognition it deserves. The groundwork must be laid with consistent tracks that exceed the standard and add a new slice of life. Once the original style is formulated, most true lyricists find their niche with a specially chosen producer. Most of the time, the producer goes through his rhythms and smoothly synchronizes in conjunction with the flows and cadences that the artist is accustomed to. With in house production, lyrical proficiency and an emerging fan base, this artist is elevating to mountainous heights. Out to prove that not just anyone can rise to this level, Crimeapple has patiently waited his turn to leave a lasting impact in the form of vivacious lyrical content.
East Coast Resurgence
Crimeapple, a rugged wordsmith, reigns from Hackensack, New Jersey. One of the first shows he performed was for Retchy P right up the road in Teaneck. His record affiliation with Tuff Kong Records keeps him distributing bodies of work that expand, stretch and advance the different boundaries of hip-hop. Around 2010, Crimeapple began to put out music that did not receive a lot of traction. After additional contemplation, he decided that he wanted to transform his situation from regular to something extraordinary. He released four mixtapes within a span of two months to nourish a fan base that is stealthily blooming in number.
Crimeapple has kept it very organic and released a large portion of his music with Buck Dudley. Their collaboration on the project, "Metralletta" is simply phenomenal. The title of the mixtape is based on a battle rap nickname that Crimeapple received in high school. Together, their ability to perfectly piece the process in great detail is unmatched. It is easy to tell that their rituals and energies are aligned in a manner that allows for genuine bonding and creation of revitalizing musical content. Their albums always arrive in complete harmony and deliver sounds that exude thought-provoking sentiments which evoke feelings of rejuvenation and deep-rooted reflection.The critical characteristic that distinguishes Crimeapple is the fact that he is a pure cunning linguist. He stands alone and makes blatantly known what he represents and the type of vernacular that he is privvy to inflicting upon the beat. The brand of hip-hop that he steadily dishes out is intellectually grimey rap. His smooth delivery of obscure references and aggressive braggadocio completes the objective every time around. He checks all boxes in terms of he can rhyme for a long period of time and cover dense subject matter by making sure every line hits emphatically hard. These types of artists don't surface frequently, and if you have been paying any attention they are few and far between.
---
Sidebar: In a saturated mumble rap culture, where the human has trouble connecting with their prefrontal cortex to develop an original thought, Crimeapple has found a formula to keep the spirit of individual flavor and complexity alive and well for everyone to enjoy.
---
One of the first moments that Crimeapple realized he would invest all his chips in the music game was at Statik Selektah's release party. After choppin' it up at the table with Statik (legendary Beast Coast producer) the two exchanged information but did not hear response from Selektah's camp initially. Fast forward about six years and Crimeapple decided to reach out to Statik via Direct message on the off chance that he remembered their encounter. The artist prefaced the message by mentioning their prior experience in person and sent the DJ footage of his most recent performance. Statik recalled all of the events entirely and responded immediately for Crimeapple to send him the music he had been working on. With a consistent output of music and performances, the artist was clearly prepared for this opportunity. The two would reconnect at a later time for an in studio collaboration.
It is important to take a moment to think about what makes Crimeapple such an impressive artist. He walks all over the beat and manipulates the different entry points and wave frequencies that the melody has to offer. It is easy to tell that this man spent a great deal of his life as a student to the game. He has fondly gathered a rich sonic background through experimentation and persistence to discover his preferences. HIs words intertwine very interactively and coast over the track to develop deeper meanings. Not only are you getting a whole lot of debonair style but its in a manner that differentiates itself due to a highly unorthodox nature. Choosing to travel a more poetic and literary route gives the artist a versatile variety of angles and directions that he can traverse and a wider audience to cater music toward.
Self-Knowledge Guidance
Crimeapple is most definitely in tune with himself and the vibes that he can bring to the table. His presence is an aura and he is on one at all times in the booth. His audacity and downright tenacity on the microphone is reminiscent of the days when Cam'ron, Bloodshed, Big L & Children of the Corn would tear apart microphones. Not only does he piece together words effortlessly, he dissects the meaning of social constructs and inflicts pain on anyone that would wish to rhyme in this manner. Rhyming with such conviction and realistic dialect is not for everyone and certainly doesn't come as natural as it may appear.
Crimeapple gave a flawless performance on Shade 45 Showoff Radio Freestyle. He completely devoured any beat that they gave to him. To remain historically correct, Crimeapple hurdled through various rhythmic pentameters and presented multiple different versions of vocal variation, lyrical interchangeability and vivid imagery. This moment was special because of the lyrical performance, but also holds significant weight because it was the first time for the Statik x Apple studio link-up. With Statik turning tables while a nationally syndicated radio show hosted, Crimeapple set the bar clear at the rooftop with fire bars.
Crimeapple is a superb and skillful emcee due to his ability to recognize strengths according to continuous acceptance of influential mechanisms. His strengths derive from listening, researching and expressing what comes natural to him. He is extremely verbose and loquacious when he balances a large realm of exchangeable words and rhyme sequences. The key to his soaring stock value deals with his ability to adapt and flexibly shape his rhymes around the careful construction of the beat breaks. Between long sentences, short interjections and usage of relatable phrases, this artist is knocking down every possible obstacle placed in his path.
When the beat comes on, Crimeapple welcomes its intricate nature and formulates a collection of words according to a precise process and meticulously planned material. His thoughts ruminate during the studio session and encompass the complexity of his mental jump roping ability. Crimeapple has a significant appeal to any hip-hop purist and connoisseur who can appreciate quality wordplay. He pieces strands of words together like a puzzle and is surgically strategic with his delivery. His lyrical content includes a healthy helping of personality as humor is commonly injected and lavish luxury items are mentioned in traditional fashion. The thing that people love about this guy is that nothing is forced. Everything comes across as naturally authentic. It is easy to tell that the connections he is making are natural and he is the type of artist to work with people who he can build rapport with. With a solid foundation and an inclination to work with associates who share veritable companionship, Crimeapple exhibits knowledge that will garner respect and benefit everyone in the long run.
Crimeapple embodies the generational and geographic spirit that thoroughbred hip-hop enthusiasts constantly yearn for. His music touches on themes such as loyalty, betrayal, retaliation, trust, travel and family ties. Bred from an authentic background, this artist culminates collections of lyrical contributions that leave listeners in awe. With a rare repertoire of word structures, picturesque soundscapes and killer punchlines over eccentric beats, Crimeapple continues to raise the bar at a magnificently high level. Working with trusted partners displays maturity and speaks to the importance of maintaining collaborative growth.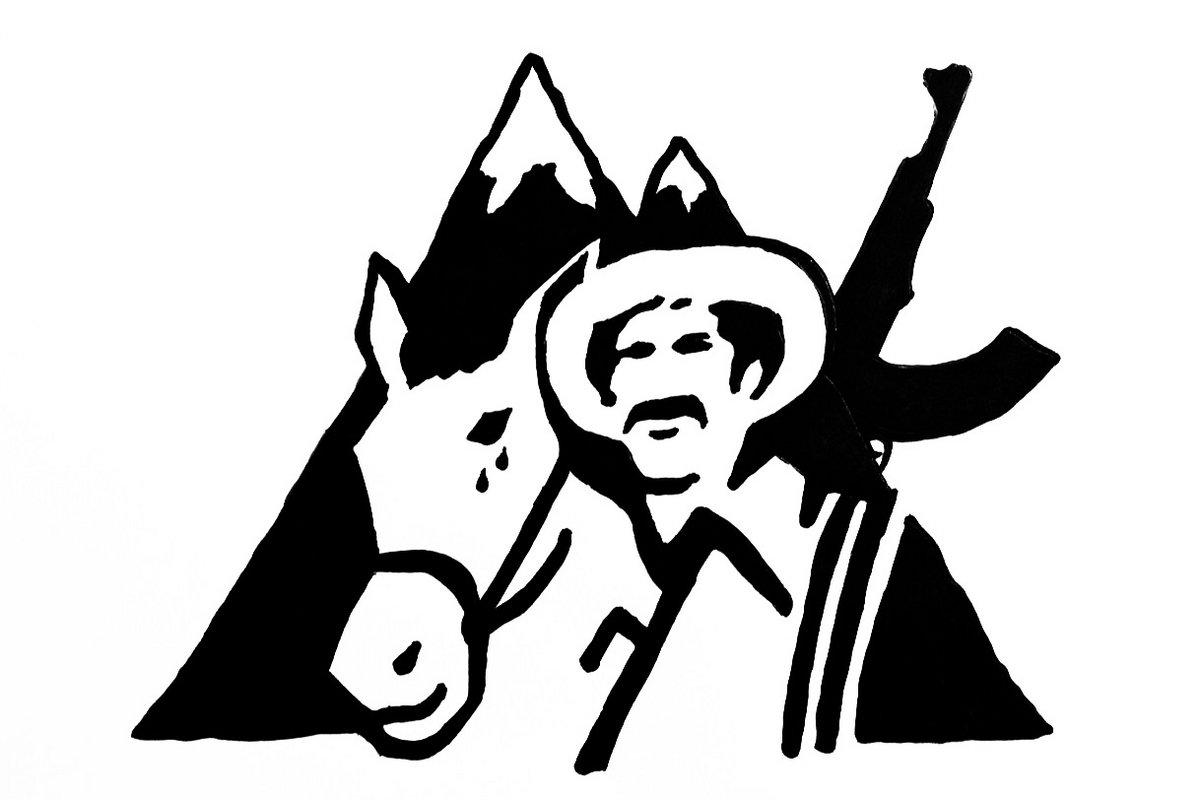 Crimeapple is the hungrier and more punishing version of Action Bronson with a long beard to boot. He completes musical projects with focus and connective experiences that build for the future. All of his music comes in completely polished fashion and does not lack in any areas. His complete bodies of work are a true testament to revision, construction, marination, vision, reworking and perfecting of craft. He encourages fans to search for the meaning within themselves by not taking things all too seriously. On stage, his expressive persona is contagious and concertgoers loosen up and enjoy themselves around people like that.
Crimeapple will not rap with just anyone. His sphere of influence deals directly with the revivalist tactics and those who are bringing back thematic storytelling. Some other artists that he has been building studio kinship with are artists such as Westside Gunn and Conway who similarly share gritty stylistic sentiments. Crimeapple gathers inventory for word combinations that do not need to fit any given criteria. He is bilingual and fluently transitions between languages without missing a beat. He bounces seamlessly from complex words to simple phrases and patches together divine offerings in musical form. His whimsical flow, sharp delivery and steady cadences convert real life scenarios into a clear depiction of reality that individuals can highly resonate with and gain great clarity from as a result.