Hip-hop exists on such a wide spectrum that it is difficult to entirely encompass all art that the lyrical genre has to offer. Often times, we find ourselves fixated on what is trending currently and may lose sight of what is true quality. Other times, we may gravitate toward our preferences and lose sight of the entire breadth of spiritual knowledge that exists in the atmosphere. No matter how you slice it, we are only human and unless you work in the music field there are only so many hours in a day to stay in tune with our favorite artists. We hope that our sources of information can direct your auditory senses in the right direction for many moons and beyond.
---
In 2011, Pro Era's late legendary leader Capital Steez brought together an eclectic group of talented individuals. Many of these lyrical geniuses reigned from Edward R. Murrow High School which is known for its heavy focus on either theatre, music, dance or communication arts. Several of the members would come together to cut class and go record music in a secluded section of the school. Beyond that, Capital Steez focused on giving recognition to those who deserved it. Through self-awareness, deep reflection and spreading positivity, Steez managed to emit positive overtones and interconnect an entire coast. What came about from his brilliant aura and ability to infinitely unite individuals with a common purpose was a collective entitled, "Beast Coast." The Beast Coast is comprised of Pro Era, Underachievers, Flatbush Zombies and Phony Ppl.
One of the standout members of Phony Ppl goes by the name of Dyme-a-Duzin. He featured on a song with Pro Era by the name of Swank Sinatra [2012.] At a young age, he freestyled with Capital Steez via what they called a, "Splitter Spitter Session" where they shared headphones to collectively listen to instrumentals and comprise intriguing verses off the top of the dome. A simple co-sign and increased involvement was all it took for Dyme-a-Duzin to take off into the limelight of the hip-hop stratosphere.
His group Phony Ppl blended funk, soul and jazz together effortlessly to form melodies and dynamic sounds with the utmost vibrations. They maintain a classical structure and order amongst each other all the while submitting fresh customized sound that gives off experimental and star-studded sounds. After melding terrific sonar tracks with Phony Ppl, Dyme moved onto a solo career where he began to work with other producers and produce some on his own. He hosts production credits with Erykah Badu, Talib Kweli and The Roots.
An influential turning point during the career of Dyme-a-Duzin came when he did a couple projects with Plain Pat. The legendary Kid Cudi collaborator chopped up a few mixtapes with Dyme by the name of Twin=X and the Portrait of Donnovan. At the age of nineteen, Duzin inked a deal with Warner Brothers. When WB merged with Atlantic, the record labels experienced some creative differences and did not exactly see eye to eye with the vision held in place by this burgeoning artist. Despite a distinction in creative energies and processes, Dyme managed to stay true to himself and never strayed far from his path of sonic infectiousness.
Mastery of Persona
Dyme-a-Duzin might be a name in Beast Coast hip-hop lore that fell by the wayside. After a consistent stream of mixtapes, quite a bit of time elapsed before he released any new material. That is, until this past July when he dropped his album which took him over three years to compose, Crown Fried. Dyme recognizes the similarities and resemblances between his neighborhood and the chicken spot that he likes to frequent. Crown Fried plays on the chain of chicken restaurants that exist in his home turf neighborhood of Crown Heights.
The album gives a direct nod to the influential, Capital Steez, who regularly remained "fried" from herbal remedies and infiltrated the minds of others. Through a cerebral mentality, Steez managed to distribute vast amounts of knowledge regarding the balance of the heart and mind chakra which makes a human whole. Altogether, a man is a king and in order to rightfully wear his Crown he must carry extensive wisdom in the form of intuitive mental equilibrium.
Food for Thought (Deep Fried Contemplation)
This album explores the areas, landscapes and landmarks that Dyme-a-Duzin has experienced throughout his life and continues to inhabit on the daily. A major component that he likes to utilize is that in New York, "chicken" serves as another term for money and he plays that double entendre brilliantly throughout this album. With personification, realistic cynicism, and thematic narration Dyme-a-Duzin delivers a masterpiece on this sixteen track compilation.
Spiritual Background
Growing up, at the age of eleven Dyme-a-Duzin's first concert was a church based beneficial event featuring the artist Q the Prophet. This man served as a religious mentor to young Donnovan. In his household, he was brought up religiously and did not listen to rap music – only music that had gospel and soulful components. He is a firm believer in the notion that it is important to walk a righteous path no matter what obstacles are thrown in your direct circumference. On his most recent album, he pairs old school sample loops with interjection from influential individuals and percussive soundscapes in order to form a refreshing take on modern hip-hop.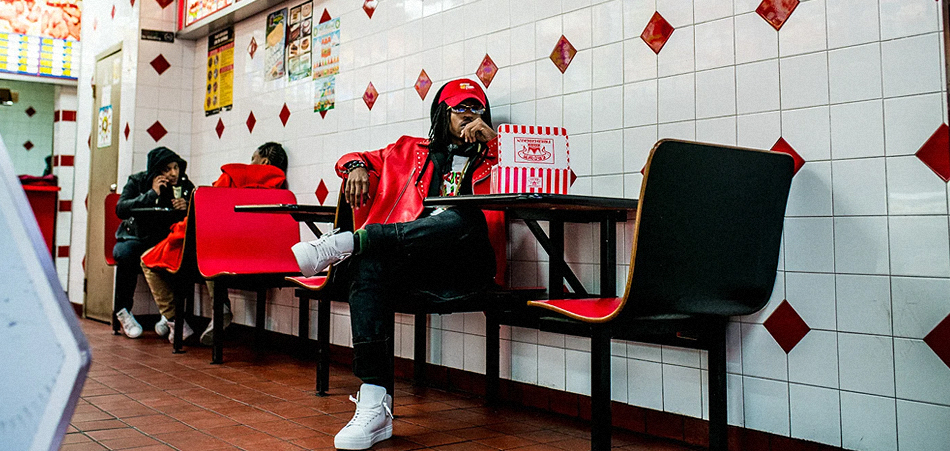 A major thematic component of this album touches upon the fact that just because you grow up surrounded by negativity, poverty, violence and any type of adverse conditions does not mean that you have to succumb to them. Those things do not define an individual and Dyme encourages listeners not to be swallowed up by external negativity. This album illuminates his purpose to debunk the theory or notion that the system defines where you or people that look like you end up due to circumstances created. With destruction of circumstances and creating independent movements Dyme proves himself as a versatile and uplifting edutainer on, "Crown Fried."
Reawakening
This album took him a great deal of time due to the internal dilemma he faced as a result of producing the wide range of sounds and musical textures. The realities of his environment led him to spit motivational stories that will stand the test of time. His easygoing nature and visionary spirit led him to spread the concept of spirituality upon this lyrical body of work. After originally being introduced to the concept of spirituality, chakra alignment, meditation sites, and visionary practices by the iconic Capital Steez, Dyme managed to extraordinarily metamorphosize his own being into unseen territory.
Without any specific time limit on his creative process, Dyme-a-Duzin made sure to take his game to the next level with patience. Rather than produce instantaneous music that obeys the custom of instant gratification, Dyme submitted to a rewarding process and listened to his heart and soul. With gradual development, New York undertones and habitual fried foods Dyme blew us away with this album. His Soundcloud mixtape, "2-Piece" sufficed as an appetizer to this main entree that will forever leave an imprint on the scene of genuine New York lyricism.
*3 Favorite Quotes*
Live from the belly of the beast

Deep fried swimmin in the grease

Ock sellin out deli up the street (The Heights)
I need the chicken, the produce

I'm so much bigger than local (Show Out)
Garments come from Middle East, I don't let this new garbage belittle me

on a different energy (Show Out)