One of the most respected and praised storytellers within Hip-Hop culture is Angie Martinez. Last June, she received the ultimate nod for her accomplishments in the form of a nomination from the National Radio Hall of Fame for best Music Format On-Air personality and rightfully so!
All inductees are nominated by a 24 person committee who receive suggestions from the industry and listening public before the committee submits their complete list of nominees. 
Angie's outstanding contributions across multiple different hip-hop mediums will leave a permanent legacy for years to come.
Angie Martinez broke into radio at the ripe age of sixteen at Hot 97.1 under the guidance of DJ Funkmaster Flex. On a national scale, Hot 97.1 possesses significant relevance due to its tradition of promoting skilled, unheralded artists. Together, Funk Flex and Angie Martinez steered the radio station through multiple rebrands en route to becoming a household station that continues to evolve with the times.
Through sheer determination and an undying work ethic, Angie started from the bottom and ascended from internship roles all the way to the point where she is universally recognized as, "The Voice of New York."  Most importantly, her come-up speaks to the fact that as a woman in Hip-Hop you do not have to compromise in order to gain due recognition.
She completely broke down the mold for women in Hip-Hop and did so by putting her love for the culture first and foremost. She has interviewed artists such as Tupac, Notorious B.I.G. and Jay-Z. She played an instrumental role in getting Jay-Z critical acclaim by being one of the first DJ's to give him airplay and "break" him to the public. In 1994, Jay's song "In My Lifetime" won an award for their segment titled, Battle of the Beats. Over the years the two hip-hop moguls have developed a strong relationship based on a mutual bond, honesty and authenticity.
Her Tupac interview truly demonstrates the power of language. Her decision to shelve the interview and leave the majority of it unreleased due to its controversial nature shows wisdom beyond her years.
"I want my respect. It's not gonna be over till I drop my Nagasaki. They bombed Pearl Harbor. They shot me five times, okay. Until I get my Nagasaki, we can't have peace." (Tupac Shakur with Angie Martinez)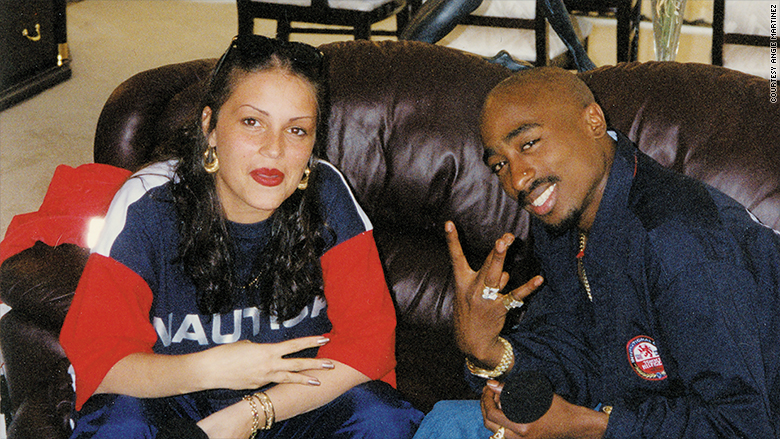 Angie went on record to state that her choice to keep the interview with Tupac private gave her strength. Whatever happened to each of those legends were by no means on an account of her conversation. She was able to draw the line with that footage and it helped her truly understand her worth as a radio personality.
As a Hot 97 radio host, she has been known to play mediator for countless entertaining exchanges. She moderated several tense moments between legendary artists like Cam'ron and 50 Cent, The Lox and P Diddy and did so with poise and professionalism.
Far from a "shock jock" radio host, Angie Martinez keeps it real in every situation and focuses on authentic documentation within every scenario. Day in and day out, she is trusted to deliver the purest content through thought-provoking stories that challenge public perception and create maximum impact.
When she departed Hot 97.1 with an emotional on-air sendoff, she shocked her fanbase with  by switching sides to rival station, Power 105.1. To begin her ultimate "glow-up", she discovered untapped potential with the iHeart radio conglomerate. Since, Angie has expanded her reach to new areas and greatly contributes to the ratings stronghold Power 105.1 maintains over Hot 97.1.
Throughout her career, she has transformed the ways by which radio personalities submit their viewpoints and perspectives. As a true source of longevity, Angie has spearheaded social shifts and does so through invigorating conversations with some of Hip-Hop's most influential individuals.
Asides from radio, she has hosted on television, acted in movies alongside Queen Latifah and Sanaa Lathan, and even featured on songs with KRS-One, Wyclef Jean and Lil Kim.
To add to her growing list of roles, she is also a philanthropist. Her memoir, "My Voice" turned out to be a New York Times bestseller and delves deep into the forays of her career. It is set to become even more developed when Tidal turns it into a documentary. She has already entered the final stages of optioning the film rights to detail the legendary chapters of her illustrious career.
Recently, she signed a television deal with Endemol Shine which is co-owned by 21st Century Fox and Apollo Global Management. She will pursue scripted and unscripted impromptu television projects for traditional and digital platforms, alike. Also, in coordination with Essence Magazine Angie Martinez will host her own talk show set to premiere on a first-run syndication basis. The three aim to create a platform that represents extraordinary individuals that inform and inspire through passionate storytelling. The show will begin playing on daytime air and will offer vibrance, relevance, advice and representation. 
She continues to yield the most intriguing conversation from her subjects throughout every interaction. Of late, her dialogue with J-Cole at Sanaa Lathan's residence brought out absolute magnificent commentary that heavily detailed the awe-striking significance each of them have contributed to the hip-hop hemisphere. They touched upon J-Cole's Rolling Loud performance, his most recent album (its impact on convincing people to kick their negative habits) and the intimacies of his upbringing and how those experiences shaped him into the artist he is today.
Overall, Angie Martinez is an outstanding individual who deserves ultimate credit for the work she has put in and the dedicated storytelling she has imparted to the public. She has carved her lane into the elite tier of hip-hop with dedication and an undying desire to generate and publicize genuine talent that deserves to be recognized. She, herself will forever be revered and will go down in history as the undisputed Queen of hip-hop radio.